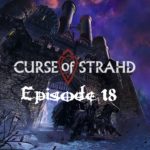 Episode 18 – Curse of Strahd
Welcome to the eighteenth episode of Curse of Strahd with Infinity & Beyond, broadcast live on Arvan Eleron's Twitch channel. In this episode, the members of Infinity & Beyond prepare to depart the village of Barovia with their new ally Ireena–but before they can do so, they must deal with the local church and its priest's deadly secret. If you like what you hear, please spread the word, and check out the live broadcasts at www.twitch.tv/arvaneleron and the past video broadcasts on Arv's YouTube channel.
Also, this episode was edited by the amazing Rudy Basso–find him at https://twitter.com/RudyBasso , and thanks as always for listening !
Podcast: Play in new window | Download
Subscribe: RSS