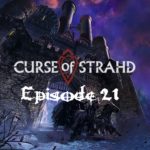 Episode 21 – Curse of Strahd
Welcome to the twenty-first episode of Curse of Strahd with Infinity & Beyond, broadcast live on Arvan Eleron's Twitch channel. In this episode, the members of Infinity & Beyond depart the village of Barovia and head west, where they find a strange windmill and its even stranger inhabitants. If you like what you hear, please spread the word, and check out the live broadcasts at www.twitch.tv/arvaneleron and the past video broadcasts on Arv's YouTube channel.
Also, this episode was edited by the amazing Rudy Basso–find him at https://twitter.com/RudyBasso , and thanks as always for listening!
Podcast: Play in new window | Download
Subscribe: RSS