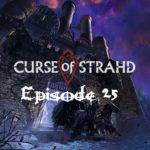 Episode 25 – Curse of Strahd
Welcome to the twenty-fifth episode of Curse of Strahd with Infinity & Beyond, broadcast live on Arvan Eleron's Twitch channel. In this episode, the Infinity & Beyond crew gets into a disagreement with the inhabitants of the Old Bonegrinder mill–and decide they need to resolve that disagreement by any means necessary. If you like what you hear, please spread the word, and check out the live broadcasts at www.twitch.tv/arvaneleron and the past video broadcasts on Arv's YouTube channel.

Also, this episode was edited by the amazing Rudy Basso–find him at https://twitter.com/RudyBasso , and thanks as always for listening!
Podcast: Play in new window | Download
Subscribe: RSS