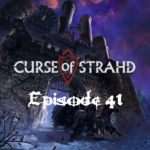 Episode 41 – Curse of Strahd
Welcome to the forty-first episode of Curse of Strahd with Infinity & Beyond, broadcast live on Arvan Eleron's Twitch channel. In this episode, the party's investigation into a strange theft takes a dangerous turn, as they find their quarry may be in league with something even worse–and the discovery hits closer to home than they could have imagined.
If you like what you hear, please spread the word, and check out the live broadcasts at www.twitch.tv/arvaneleron and the past video broadcasts on Arv's YouTube channel. Also, this episode was edited by the amazing Gnomedic Barranco–find him at https://twitter.com/gnomedic, and thanks as always for listening!
Podcast: Play in new window | Download
Subscribe: RSS